A georgian mansion house overlooking the River Dart - which was once rocked by seventies supergroup Led Zeppelin - has just been sold to a mystery buyer for more than £6million.
The identity of the owner is being kept such a closely guarded secret that the Dartmouth estate agents who sold it have signed a 'gagging order' banning them from saying anything about the buyer or the seller. In fact, the nine bedroom Old Rectory at Dittisham, which comes with seven bathrooms and magnificent views across the Dart Estuary, was sold by former Duran Duran manager Michael Berrow and his wife Frances.
It was only on the market for a month before being snapped up - and at least one of the super rich interested in snapping it was Titanic star Kate Winslet, who was spotted in the village when she came down to look over it.
In fact the word is the Kate did not buy it and that the new owner is not part of the Hollywood or superstar elite and will be using it as a holiday home.
The Old Rectory went on the market a little over a month ago and was marketed by the Marchand Petit chain of estate agents.
It sparked off a lot of interest from would-be buyers from this country and abroad.
But a spokesman for the agents, who did not even want to be named, revealed that there was a legal agreement which meant that he could not say anything about the sale, how much the house actually sold for or who sold or bought it.
However the huge old building with four reception rooms, a small recording studio, a swimming pool and six acres of grounds at the end of Rectory Lane, Dittisham, was being advertised with an asking price of £6 million and it is believed it went for more than that.
The original Georgian building was virtually destroyed by fire in the 1970s leaving nothing but a 50 square foot shell and a porch.
In the early 1980s, Led Zeppelin star Jon (sic) Paul Jones lived there and the band used to rehearse there.
In the village pubs and the village store, locals were adamant that they had no idea who the new owners are.

"Somebody said it had been sold but no-one is saying who to,"
said one.
"We seriously haven't heard anything at the moment,"
said another.
Local district councillor and farmer John Tucker said it was common knowledge that Kate Winslet had been down to look at it but had decided not to buy it.
"There were quite a few celebrities interested but it seems it's not anybody we know of. All I have heard is that they want it for a second home,"
he said.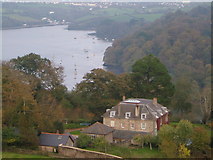 The Old Rectory, Dittisham
© Copyright
Derek Harper
and licensed for reuse under this
Creative Commons Licence
.